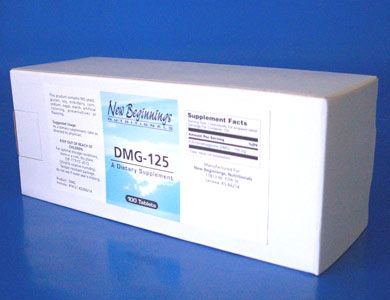 Dimethylglycine (DMG) is a chemical derivative of glycine, with two glycine amino acids attached to a methyl-group. Glycine acts as a building block for many critical substances in the human body, including the amino acid properties of methionine, choline, a wide variety of important hormones and neurotransmitters, and DNA. Research has also shown that DMG strengthens the immune system.
DMG's primary role in metabolism is to act as a key intermediary in the biological pathway that supplies the body with methyl groups. It maximizes the amount of energy produced for each molecule of oxygen consumed, and stimulates both branches of the immune system. DMG also acts as a detoxifying agent and antioxidant, protecting body cells from unwanted reactions caused by free radicals.
$26.00

Suggested Dosage: Chew 1-2 tablets per day in the morning or as suggested by your health care practitioner.
Each tablet contains:
Supplement Facts
Serving size
1 Tablet
%DV
Servings per container
100
N,N-Dimethylglycine (DMG)
125 mg
*
* Daily Value not established.
Other Ingredients: none
This product contains NO yeast, gluten, soy, milk/dairy, corn, sodium, sugar, starch, artificial coloring, preservatives or flavoring.   * These statements have not been evaluated by the FDA. This product is not intended to diagnose, treat, cure or prevent any disease.

Share