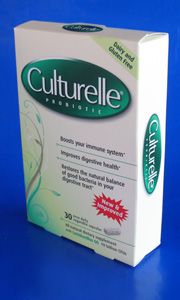 Culturelle® is an all-natural dietary supplement containing Lactobacillus GG. It is clinically proven at major US and European institutions to maintain a healthy intestinal tract and strengthens the body's natural defenses. Culturelle® is the exclusive brand containing the health promoting benefits of Lactobacillus GG. No other probiotic in the United States contains the powerful strain of Lactobacillus GG.
If you are taking antibiotics, traveling or simply want to promote your health, taking Culturelle® daily will maintain the health promoting "good" bacteria in your intestinal tract. This is important because the intestine is the largest immune organ in the body and promoting its health strengthens your body's over-all natural defenses.
Lactobacillus GG is grown on whey and will contain trace levels (less than 15 parts per million per capsule) of casein and whey, which are proteins found in milk.
Culturelle® Benefits**
Helps maintain healthy intestinal flora
yes
Enhances the body's natural defenses
yes
Assists intestinal functioning
yes
Adheres & colonizes intestinal tract
yes
Survives in stomach acid and intestinal bile
yes
Clinically proven health benefits
yes
Helps support the body's natural resistance
yes
Guaranteed at least 10 Billion live active cells in each capsule
yes
Manufactured under controlled conditions to ensure highest quality and potency
yes
Each capsule double-foil protected against harmful light, air, & moisture
yes
No refrigeration necessary – store at room temperature or below
yes
Studies have established that for maximum beneficial effects of any probiotic, billions of "good" bacteria should be taken in order to colonize the intestinal tract. Each package of Culturelle contains 30 capsules with a guarantee to contain at least 10 billion live active cells per capsule by the expiration date (although each capsule contains a minimum of 10 billion live active cells at the date manufacture).
$22.00

Suggested Use:
§ To be used as a dietary supplement: Take 1 capsule per day to feel your best.
§ May be taken concurrently with antibiotics, but Culturelle must be taken 2 hours apart from the antibiotic. Take 1 capsule twice daily throughout antibiotic therapy and for one week following to maintain "healthy" bacteria.
§ For Traveling: Take 1 capsule twice daily throughout the trip. Best if started 2-3 days prior to travel.
§ Safe & effective for infants and children: Give ½ capsule per day for children under two and 1 capsule per day for children ages two and older. Open capsule and stir contents into cool drink or mix into baby food or applesauce.
Each capsule contains:
Supplement Facts
Serving size
1 Vegetarian Capsule
%DV
Servings per container
30
Inulin (chicory root extract)
260 mg
*
Lactobacillus GG
10 billion cells
*
* Daily Value not established.
Other Ingredients: Vegetable Capsule (hypromellose)
* These statements have not been evaluated by the FDA. This product is not intended to diagnose, treat, cure or prevent any disease.