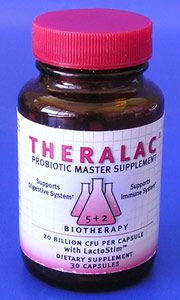 The information below is provided with the permission of TheraBiotics, Inc. Victoria, MN
Theralac is a high potency probiotic supplement containing 20 billion colony-forming units (CFU) of naturally occurring probiotic bacteria per capsule. Probiotic bacteria are beneficial components of the intestinal microflora and can easily become depleted in various health and digestive problems. A probiotic deficiency is best corrected by supplementing the diet with effective strains of probiotic bacteria administered in effective numbers (> 10 billion/dose). Intestinal health is necessary for proper Digestion, Absorption, Regularity, Immunity and Energy. Theralac capsules contain five beneficial strains of probiotic bacteria that adhere to the soft lining of the intestinal tract and help maintain a healthy surface. Their scientific names and strain identities are:
Lactobacillus paracasei, strain F-19
Lactobacillus acidophilus, strain LA-1
Lactobacillus rhamnosus, strain HN001
Bifidobacterium lactis, strain HN019
Bifidobacterium bifidum, strain BB-12
Theralac's® Natural Acid-Proof Formula: The probiotics in THERALAC are protected from stomach acid by a gel matrix (patent pending) composed of sodium alginate (from seaweed) and grape skin extract. The gel matrix forms in the stomach at low pH and dissolves in the small intestines at high pH, allowing acid sensitive probiotics to reach the intestinal tract at full strength.
THERALAC'S 12 billion "Lacto" probiotics attach to the soft lining of the small intestine and promote a healthy surface.
THERALAC'S 8 billion "Bifido" probiotics adhere to the wall of the colon and promote healthy structure and function.
THERALAC'S Prebiotics work throughout the intestinal tract and stimulate the probiotics.
Theralac's® patent pending process involves blending the probiotic bacteria with sodium alginate (from seaweed) and grape skin extract (Antioxidant/Buffer) and is distinctly different and safer than enteric coated formulations that utilize derivatives of acrylic acid (a synthetic chemical). All components in Theralac® are natural, food grade, digestible substances!
The Lactobacillus or "Lacto" strains are most active in the small intestine, particularly in the lower section called the ileum. The Bifidobacterium or "Bifido" strains are most active in the colon. These five probiotic strains function by a number of natural mechanisms that include competitive exclusion of undesirable microorganisms and modulation of the immune system; their effectiveness is backed by over 110 scientific studies. Theralac's probiotic bacteria have been isolated from the intestinal tracts of healthy people and are purified, concentrated and freeze-dried before being incorporated into Theralac capsules.
Bioactive Prebiotic Stimulants
Two prebiotics are included in Theralac capsules: Lactoferrin and LactoStim. These are food grade substances that benefit the growth and survival of probiotic bacteria in the intestinal tract. Lactoferrin binds iron that gram negative bacteria require in large amounts (E. coli and Salmonella are gram negative) and, thereby, gives gram positive probiotic bacteria, which require much less iron, a competitive edge. LactoStim is a food grade emulsifier that is required by Lactobacillus bacteria as a growth factor (patent pending). Theralac does not contain isolated FOS prebiotics since they cause gas and cramping in many people.
Packaging and Shelf Life
Probiotics are living products that require refrigeration for optimum stability and shelf life. Theralac is quite stable due to "TIP" or Totally Inert Packaging: Theralac capsules are packaged in double-sealed, amber glass bottles containing both moisture and oxygen absorption packets. They can be held at temperatures up to 75° F for up to one month (while traveling) but must be kept refrigerated beyond that to assure potency through the expiration date.
$39.00

Suggested Dosage: 1 capsule daily for two weeks and thereafter, 3 capsules weekly. More acute cases of dysbiosis may require 1 capsule daily for a period of 4 to 6 weeks. For persons who cannot swallow pills, open up the capsule and sprinkle into soft food such as applesauce, baby food, or mashed fruit. DO NOT STIR and wait one minute until the probiotic turns purple and forms protective lumps which will protect the probiotic bacteria from the stomac acid.
Each capsule contains:
Supplement Facts
Serving size
1 Capsule
%DV
Servings per container
30
Lactobacillus paracasel (strain F-19)
5 Billion CFU*
**
Lactobacillus rhamnosus (strain HN001)
2 Billion CFU
**
Lactobacillus acidophilus (strain LA-1)
5 Billion CFU*
**
Bifobacterium lactis (strain HN019)
5 Billion CFU*
**
Bifobacterium bifidum (strain BB-12)
3 Billion CFU*
**
Lactoferrin (Freeze-Dried)
25 mg
**
* CFU – Colony Forming Units
** Daily Value not established.
Other Ingredients: Cellulose, Sodium Alginate, Grape Skin Extract, Silica, Polysorbate 80 – LactoStim (patent pending), Magnesium Stearate (vegetable source).
This product contains NO yeast, corn, gluten, soy, milk/dairy, starch or artificial colors.
These statements have not been evaluated by the FDA. This product is not intended to diagnose, cure, treat, or prevent any disease.