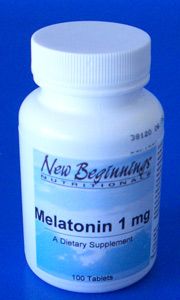 Melatonin is considered to be the "molecular equivalent to darkness." It is a hormone naturally produced by the pineal gland. When individuals have difficulty sleeping, supplying melatonin via supplementation can be very helpful in improving the sleep cycle.  Melatonin supports the immune system too by helping maintain the activity of circulating natural killer cells.  Melatonin is a potent antioxidant – particularly in the brain – that enters all body cells to help prevent free radical damage.  It is lipid and water-soluble allowing it to cross the blood-brain barrier freely.  Scientific studies have shown that melatonin is more effective than glutathione and vitamin E in scavenging and neutralizing certain radicals that induce DNA damage.  Also, melatonin stimulates glutathione peroxidase which makes it an important supplement for individuals who are deficient in glutathione.
Caution: Melatonin should not be taken during the day; it may cause drowsiness.
$11.00

Suggested Dosage: Take 1 – 2 tablets 30 minutes prior to bedtime
Each tablet contains:
Supplement Facts
Serving size
1 Tablet
%DV
Servings per container
100
Melatonin
1 mg
*
* Daily Value not established.
Other Ingredients: Sorbitol, xylitol, stearic acid, silicon dioxide and magnesium stearate.
This product contains NO yeast, gluten, soy, dairy, corn, sugar, artificial coloring, preservatives or flavoring.
These statements have not been evaluated by the FDA. This product is not intended to diagnose, cure, treat, or prevent any disease.
Share