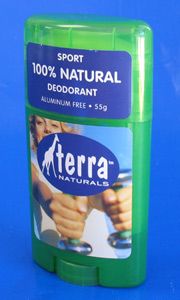 Terra Naturals Deodorant Citrus Sport, Lavender & Unscented
Terra Naturals offers a one-of-a-kind, 100% natural deodorant that provides outstanding odor control. It is now possible to achieve both safe and effective protection utilizing custom formulated plant extracts derived from the high quality herbs. Terra Naturals deodorant also contains powerful antioxidants and immune supplements to protect and moisturize the delicate underarm area, without leaving a sticky residue.
Terra Naturals deodorant does NOT contain:
aluminum
parabens
propylene glycol
other petroleum based chemicals
$6.00

94% of users surveyed find this product to be as effective as synthetic deodorants
Will it keep me dry? No. To stay dry you would have to use an antiperspirant, which uses aluminum chloride to block the sweat ducts and keep perspiration from escaping. Many people feel that stopping perspiration can work to the detriment of our health. Since the skin under our arms tends to be thinner with numerous lymph nodes in the auxiliary area, aluminum salts can be easily absorbed and may find themselves circulating throughout the body. Aluminum is a toxic metal that has been linked to immune dysfunction and Alzheimer's disease. Terra Naturals Deodorant comes in citrus sport, lavender and unscented.
Ingredients: Propanediol (100% corn derived), organic aloe barbadensis (aloe) leaf juice, sodium stearate (vegetable), beta glucan, organic calendula offinalis extract, organic olea europaea (olive) leaf extract, wild crafted betula alba (birch) extract, wild crafted uncaria tomentosa (cat's claw) extract, wild crafted gallium aparine (cleavers), wild larix extract, ionicera japonica (honeysuckle) extract, maranta arundinacea (arrowroot) extract, and chondrus crispus.
Citrus Sport: Natural lemon parfum
Lavender: Natural lavender parfum.
This product contains ingredients derived from coconuts and corn. These statements have not been evaluated by the FDA. This product is not intended to diagnose, cure, treat, or prevent any disease.