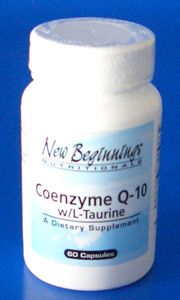 Coenzyme Q-10 is a naturally occurring antioxidant essential for good health. Most people do not produce adequate amounts of coenzyme Q-10 due to inadequate nutrition or improper digestion. Coenzyme Q-10 is responsible for producing the energy in our body's cells. Nearly all cellular activities require energy, making coenzyme Q-10 a vitally important supplement. Coenzyme Q-10 acts as an antioxidant and protects against free radical damage. L-Taurine is a free amino acid vital to the central nervous system, skeletal tissue and heart. In addition, it helps protect visual cells from light-induced oxidative damage, and assists with the production of bile salts, which aid in digestive functioning.
$21.00

Suggested Dosage: 1-2 capsules daily or as recommended by your health care practitioner. Capsules can be swallowed or opened and contents mixed with food or juice.
Each capsule contains:
Supplement Facts
Serving Size
1 Capsule
%DV
Servings per container
60
L-Taurine
150 mg
*
Coenzyme Q-10
25 mg
*
Other Ingredients: Gelatin (capsule), cellulose, and vegetable stearate
* Daily Value not established.
This product contains NO yeast, gluten, soy, milk/dairy, corn, sodium, sugar, starch, artificial coloring, preservatives or flavoring.
These statements have not been evaluated by the FDA. This product is not intended to diagnose, treat, cure or prevent any disease