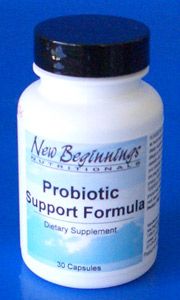 New Beginnings Nutritionals Probiotic Support Formula offers a new formula of high potency (20 billion cfu) blend of beneficial bacteria plus Saccharoymyces Boularii (2 Billion cfu), a beneficial yeast that helps maintain proper intestinal flora. This new and improved version now offers 3 times the potency per capsule compared to the previous formula. Replenishing the beneficial bacteria in the intestinal tract with multiple strains of good bacteria is essential for fighting overgrowths of yeast, pathogenic bacteria, and promoting proper intestinal function. Rotating multiple brands and combinations of probiotics can be helpful to ensure long-term success in establishing healthy intestinal mucosa.
$24.00

Suggested Dosage: ½ to 1 capsule daily or as suggested by your health care practitioner. Capsules can be swallowed or opened and contents mixed in food or juice.
Each capsule contains:
Supplement Facts:
Serving Size
1 Vegeterian Capsule
%DV
Servings per container
30
*
Proprietary Blend of:
20 Billion CFU
*
Lactobacillus acidophilus
Lactobacillus paracasei
*
Bifdobacterium bifidum
*
Bifdobacterium lactis
*
Lactobacillus plantarum
*
Lactobacillus rhamnosus
Saccharomyces boulardii
2 Billion CFU
* Daily Value not established.
Other Ingredients: Magnesium stearate, silicon dioxide
This product contains NO gluten, eggs, peanuts, corn, artificial coloring, preservatives or flavoring.
These statements have not been evaluated by the FDA. This product is not intended to diagnose, cure, treat, or prevent any disease.