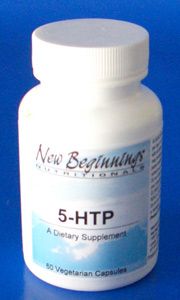 5-HTP is a nutritional supplement derived from the seeds of the Griffonia plant and is considered a natural mood enhancer. 5-HTP is a safe and effective means of increasing brain serotonin levels. Serotonin, an important brain neurotransmitter, is key in the regulation of appetite, mood, and melatonin production. The presence of serotonin in the brain is associated with a balanced emotional state. Serotonin also acts as a satiety signal in the brain, thereby naturally regulating food intake. Additionally, as a precursor of melatonin, serotonin is involved in regulating sleep patterns. Low levels of serotonin have been linked with depression, insomnia, anxiety, migraines, PMS, obsessive/compulsive behavior, stress, over-eating/obesity and ADD in children.
$20.00

Suggested Dosage: 1 to 2 capsules daily or as suggested by your health care practitioner. Capsules can be swallowed or opened and contents mixed in food or juice.
Each capsule contains:
Supplement Facts
Serving size
1 Vegetarian Capsule
%DV
Servings per container
60
5-HTP
50 mg
*
* Daily Value not established.
Other Ingredients: Natural vegetable capsules, magnesium stearate and microcrystalline cellulose
This product contains NO yeast, gluten, soy, milk/dairy, corn, sodium, sugar, starch, artificial coloring, preservatives or flavoring.
These statements have not been evaluated by the FDA. This product is not intended to diagnose, treat, cure, or prevent any disease.