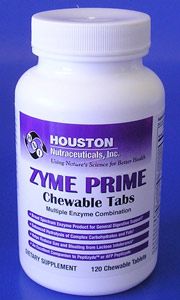 Broad Spectrum Enzyme Product for General Digestive Support
Enhanced Hydrolysis of Complex Carbohydrates and Fats
Helps Reduce Gas and Bloating from Starchy Meals
An Excellent Companion to Peptizyde™
This delicious berry flavored – easy to chew tablet lets you take Zyme Prime anywhere. Tastes so good kids will love it as a snack! Great for school lunches.
Zyme Prime is a combination of 9 enzyme blends in high concentration. These enzymes are effective in ...
Continue Reading →
Share