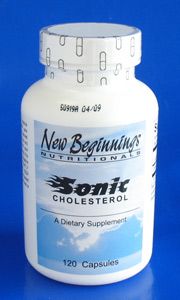 Sonic Cholesterol is an exceptional product. It is a potent and pure product designed to normalize deficiencies in cholesterol.  Research has now shown that approximately 30-50 percent of individuals with pure autism or others with an autism-spectrum disorder suffer with low cholesterol.  Low cholesterol has been associated with a variety of health problems ranging from cancer, violent behavior, aggression, anxiety, depression, bipolar disorder, suicide, strokes, cataracts and increased susceptibility to gastrointestinal infections. Sonic Cholesterol is not made from eggs so it is a great solution for children and adults with low cholesterol who are have an allergy to eggs.
Each capsule contains 250 mg of pure medical grade cholesterol
Each 250 mg dose provides the cholesterol in the same amount as one egg
The product is hypoallergenic as it extracted from raw sheep wool
Tested and shows undetectable levels of heavy metals and other toxic chemicals
Must have physician approval or under the care of a physician.

Suggested Dosage:
For very low cholesterol values (<100 mg/dl):  Dose 4-6 capsules (1000 – 1500 mg) per day in divided doses with meals.
For moderately low cholesterol values (100 to 130 mg/dl): Dose 3-4 capsules (750-1000 mg) per day in divided doses with meals.
For low normal cholesterol values (130 to 160 mg/dl): Dose 2 capsule per day (500 mg) in divided doses with meals.
Precautions: Monthly cholesterol testing is strongly recommended for a time to monitor and adjust cholesterol dosing until blood levels are stabilized.
Each capsule contains:
Supplement Facts
Serving size
1 Vegetarian Capsule
%DV
Servings per container
120
Cholesterol USP
250 mg
*
Daily value not established.
Other Ingredients: Natural vegetable capsules. May contain one or more of the following: Calcium Silicate, Magnesium Stearate, Microcrystalline Cellulose and Silicon Dioxide.

This product contains NO yeast, gluten, soy, dairy, corn, sugar, artificial coloring, preservatives or flavoring.
These statements have not been evaluated by the FDA. This product is not intended to diagnose, treat, cure, or prevent any disease.
Share