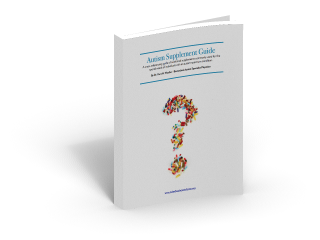 Dr. Woeller's Autism Supplements Guide is unique in that it not only allows you to learn about individual supplements helpful for autism, but also provides the ability to cross-reference useful supplements for specific issues such as attention and focusing problems, aggressive behavior, anxiety and emotional stress, constipation, hyperactivity problems, sleep difficulties, and much more. Also, included are categories for immune, mineral and vitamin support, along with yeast and bacteria treatment, brain chemistry, essential fatty acid, antioxidant, fat metabolism supplementation and a lot more. It's like having two reference books in one!
The content in this 86 page guide book is not a bunch of "theory," or "perfect world" scenarios. Dr. Woeller specifically wrote this to be a user-friendly, "real world" manual that helps guide you through the often complicated and confusing world of supplements and vitamins, and how they relate to autism treatment.
This unique book will also give you supplement dosing recommendations based on Dr. Woeller's 10+ years experience as a clinical as well as biomedical autism physician. Dr. Woeller has also been an outreach physician, helping treat people with autism all over the country.
* What Supplements Should You Use?
* What Are The Dosing Recommendations For Various Supplements?
* When Do You Give Them?
* Is It Important To Combine Supplements?
* What Supplements Shouldn't Be Taken With Others?
* What Benefits Can You Expect To See From Autism Supplements?
* What Side Effects Might There Be?
These questions and many more are explained in detail in Dr. Woeller's Autism Supplements Guide for the common nutritional supplements available for individuals on the autism-spectrum.
Additional benefits of using Dr. Woeller's Autism Supplements Guide is learning how to give supplements and useful ways of administering supplements to children. There are recommendations for mixing various supplements to make them more palatable and easier to give. There are many great nutritional supplements for individuals on the autism-spectrum, but if you cannot get them to take their supplements they are of no use. This book has solutions.
ORDER NOW!
Just $37




After purchasing this ebook, you will be directed to a download page where you can download the book and start using it within minutes! No waiting for shipping!