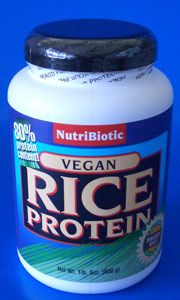 NutriBiotic Rice Protein is a great tasting vegetable protein made from non-genetically modified California grown brown rice. Free of the common food allergens normally associated with products such as soy, milk, egg, wheat and yeast.
Rice protein is suitable for use by those with food allergies and has even been tube feeding of infants, the elderly and the severely ill. It has a mild flavor similar to that of Cream of Rice cereal and may be used in beverages, sprinkled on cereals and yogurt, added to cooked dishes to boost the protein content without adding fat or a lot of calories. At about 58 calories per tablespoon (or 15 gram serving), rice protein is one of the lightest protein sources around. This highly soluble powdered formula mixes easily into water, juice or meals for an extra protein boost.
Although rice is a carbohydrate, all foods contain amino acids, which are the building blocks of what we collectively call protein. A unique process is used to isolate the protein from the carbohydrate portion of the rice, which results in an extensive amino acid profile that includes 19 amino acids including all 9 essential amino acids making a "complete" protein (see amino acid profile below). Chemical processing is avoided by using a purified water and natural enzyme procedure. NutriBiotic Rice Protein is free of the common food allergens normally associated with soy, milk and egg. proteins.
$18.00

Directions for use: As a protein source, mix one or more servings into a glass of water or juice, or add to your favorite recipes. Use one to three times daily or as directed by a health-care practitioner.
Each serving contains:
Nutritional Facts
%DV
Serving size
1 heaping Tbsp (15g)
%DV
Servings per container
40
Calories
50
Total Fat
0.7g
0%
Saturated Fat
0g
0%
Cholesterol
0g
0%
Sodium
10 mg
0.5%
Potassium
0 mg
0%
Total Carbohydrate
1.8g
0.6%
Dietary Fiber
200 mg
1%
Sugars
1g
Protein
12g
Ingredients: Enzymatically processed rice protein from California and brown rice.
AMINO ACID RATIOS PER 15 GRAM SERVING OF RICE PROTEIN
Alanine
521 mg
Histidine*
350 mg
Serine
602 mg
Arginine
1156 mg
Isoleucine*
544 mg
Threonine*
432 mg
Aspartic Acid
1269 mg
Leucine*
943 mg
Tryptophan*+
205 mg
Cysteine
unknown
Lysine*
627 mg
Tyrosine
462 mg
Cystine
242 mg
Methionine*
178 mg
Valine*
600 mg
Glutamic Acid
2187 mg
Phenyla-lanine*
600 mg
* Essential
Amino Acids
Glycine
490 mg
Proline
592 mg
+Naturally Occurring
This product contains no gluten, yeast, milk derivatives, artificial colors or flavors.