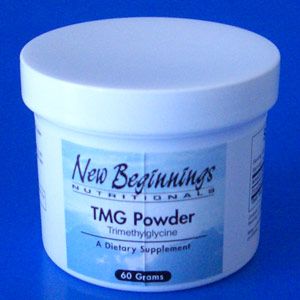 Trimethylglycine (TMG) is similar to Dimethylglycine (DMG). It has one additional methyl group (CH3-) that consists of a glycine amino acid and three methyl groups. TMG is a more active methyl donor and helps to support the methylation cycle by converting homocysteine to methionine. Adequate levels of methionine are important to sulfation chemistry and for the production of glutathione – both are important components in helping the body to protect itself from toxic chemicals and oxidative stress.
$11.00

Suggested Dosage: 1 rounded scoop in the morning mixed with food or drink or as suggested by your health care practitioner.
Each rounded scoop contains:
Supplement Facts
Serving size
1 Rounded Scoop
%DV
Servings per container
120
Trimethylglycine
500 mg
*
*Daily Value not established.
Other ingredients:  none
This product contains NO added sugar, wheat, gluten, corn, coloring, dairy, flavoring or preservatives.
These statements have not been evaluated by the FDA. This product is not intended to diagnose, cure, treat, or prevent any disease.
Share