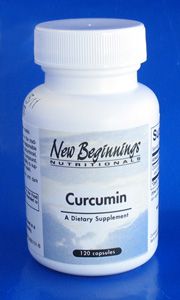 Curcumin is the main component of Turmeric, (Curcuma longa) which is known as the tradiitional spice from India that is used in curry dishes. The principal curcuminoid compound in curcumin has potent antioxidant, anti-inflammatory, and antii-microbial properties that have been extensively researched for its ability to support colon, joint, cardiovascular and neuronal health.
Keep container tightly closed in a cool, dry and dark place. Keep out of reach children.
$16.00

Suggested Dosage: Take 1 – 6 capsules daily with food one or more times daily or as directed by a healthcare practitioner.
Each capsule contains:
Supplement Facts
Servings per container
120 caps
%DV
Curcuminoids

(from Curcuma longa root and rhizomes

142 mg
*
* Daily Value not established.
Other Ingredients: Hydroxypropylmethylcellulose (vegetarian capsule), magnesium stearate and silicon dioxide.
This product contains NO yeast, corn, gluten, soy, lactose, sugar or other sweeteners, artificial colors, or preservatives.
These statements have not been evaluated by the FDA. This product is not intended to diagnose, cure, treat, or prevent any disease