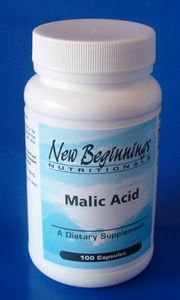 Malic acid is an organic acid that is an alpha-hydroxy acid. Because malic acid is commonly found in apples and other fruits it is referred to as a fruit acid. However, it can also be found in plants and animals, including humans. Malic acid is a intermediate chemical in the key major biochemical energy-producing cycle in cells known as the citric acid (aka. Krebs cycl which is located in the mitochondria in most living organisms.
Malic acid is found in all living cells and is necessary for manufacturing the energy chemical called ATP – our body's main energy source. This supplement supports proper muscle function, and sparks the Krebs cycle for efficient energy production. Malic acid is also important for supporting the body's ability to detoxify aluminum from various organs and tissues including the brain.
New Beginnings Nutritionals offers this high quality Malic Acid in 500 mg capsules.
$12.00

Suggested Dosage:
| | |
| --- | --- |
| Children | 1 to 2 capsules daily or as suggested by your health care practitioner |
| Adults | 2 to 4 capsules daily or as suggested by your health care practitioner |
Each capsule contains:
Supplement Facts
Serving size
1 Capsule
%DV
Servings per container
100
Malic Acid
500 mg
*
* Daily Value not established.
Other Ingredients: Vegetarian capsule, cellulose, water, silicon dioxide, and magnesium stearate.
This product contains NO yeast, gluten, soy protein, milk/dairy, corn, sodium, sugar, starch, artificial coloring, preservatives or flavoring.
These statements have not been evaluated by the FDA. This product is not intended to diagnose, cure, treat, or prevent any disease.
Share