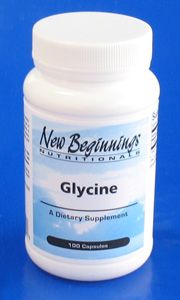 Glycine is an amino acid essential for aiding the detoxification pathways in the body and for central nervous system function. In the brain, glycine acts to inhibit the neurotransmitters that can cause seizure activity, hyperactivity, and manic (bipolar) depression. It also helps supply the body with glucose needed for energy and helps to regulate blood sugar levels. And lastly, glycine participates in processing motor and sensory information that permits movement, vision, and hearing.
Each vegetarian capsule supplies 500 mg of glycine.
$12.00

Suggested Dosage: Take 1 or 2 capsules daily with food or as directed by your healthcare practitioner.
Each capsule contains:
Supplement Facts
Serving size
1 capsule
%DV
Servings per container
100
Glycine
500 mg
*
*Daily value not established
Other ingredients: Vegetarian capsule (hydroxypropyl methylcellulose, water), silicon dioxide, and L-leucine.
This product contains NO yeast, gluten, dairy, corn, sugar, artificial coloring, preservatives or flavoring.
These statements have not been evaluated by the FDA. This product is not intended to diagnose, treat, cure, or prevent any disease.
Share