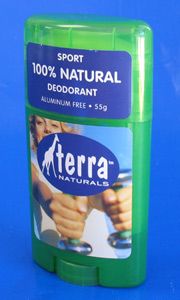 Terra Naturals Deodorant Citrus Sport, Lavender & Unscented
Terra Naturals offers a one-of-a-kind, 100% natural deodorant that provides outstanding odor control.  It is now possible to achieve both safe and effective protection utilizing custom formulated plant extracts derived from the high quality herbs.  Terra Naturals deodorant also contains powerful antioxidants and immune supplements to protect and moisturize the delicate underarm area, without leaving a sticky residue.
Terra Naturals deodorant does NOT ...
Continue Reading →
Share