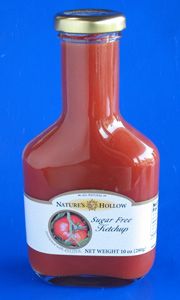 Did you know that ketchup has a lot of sugar in it? Nature's Hollow Sugar Free Ketchup is a delicious, healthful, all natural blend of fresh tomatoes and spices sweetened with xylitol, a naturally occurring sugar substitute that is 100% natural, healthy, and has no aftertaste. Because xylitol has a low glycemic index and cannot be utilized by yeast, it is an ideal sweetener for children and adults needing to significantly reduce their sugar intake for health reasons.
$6.00

Each tablespoon contains:
Supplement Facts
Serving size
1 Tbsp (20g)
%DV
Servings per container
About 14
Calories
0
Total Fat
0g
0%
Sodium
30g
0%
Total Carbohydrates
6g
3%
Effective Carbs
2g
3%
Sugars
0g
Protein
0g
0%
Xylitol
4g
*
* Daily Value not established.
Ingredients: Tomato Puree, Apple Cider Vinegar, Xylitol, Spices, Salt, Arrowroot.
This product contains no gluten, yeast, milk derivatives, artificial colors or flavors.