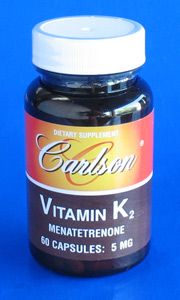 Vitamin K2 is a fat soluble vitamin found in a variety of food sources primarily chicken egg yolk, butter, cow liver, certain cheeses and fermented soy products. Research suggests that vitamin K2 promotes a healthy cardiovascular system and healthy bones and cartilage. Adequate levels of vitamin K are important for healthy glutamate conversion, nervous system development, and calcium regulation. This critical vitamin also possesses potent anti-oxidant and anti-inflammatory properties. Carlson Vitamin K2 provides 5mg of vitamin K2 in each capsule.
$21.00

Suggested Dosage: Take 1 or more capsules per day with meals or as directed by a healthcare practitioner. The capsules can be opened and drops can be mixed into drink of food
Each capsule contains:
Supplement Facts
Servings per container
180 caps
%DV
Vitamin K2

(as menatetrenone)

5 mg
6250%
* Daily Value not established.
Other Ingredients: Cellulose, vegetable stearate and silica.
Warnings: Do not use with prescription anticoagulants. Do not use during pregnancy or breastfeeding.
This product contains NO yeast, corn, gluten, soy, lactose, sugar or other sweeteners, artificial colors, or preservatives.
These statements have not been evaluated by the FDA. This product is not intended to diagnose, cure, treat, or prevent any disease.
Share