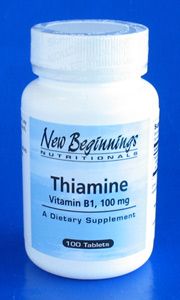 As co-enzymes, B vitamins are essential in most major biochemical reactions that support metabolism. They play critical roles in energy production, including those that support lipids, carbohydrates, and proteins metabolism. B vitamins are also important for the function of blood cells, hormones, and nervous system. As water-soluble substances, B vitamins are not stored generally in the body to any appreciable degree (with the exception of vitamin B-12). Thus, the body needs an adequate supply of B vitamins from dietary (or supplement form) on a daily basis.
Thiamine (Vitamin B-1) is a coenzyme in energy production. Thiamine is converted into thiamine pyrophosphate, which is important for glycolytic and Krebs cycle biochemical reactions. Thiamine also appears to be related to nerve impulse transmission within the brain and nervous system.
$5.00

Suggested Dosage: 1 tablet daily or as suggested by your health care practitioner.
Each tablet contains:
Supplement Facts
Servings per container
100 tabs
%DV
Thiamine

(Vitamin B-1 as Thiamine HCI)

100 mg
6687%
* Daily Value not established.
Other Ingredients: Cellulose, vegetable stearate and silica.
This product contains NO yeast, corn, gluten, soy, lactose, sugar or other sweeteners, artificial colors, or preservatives.
These statements have not been evaluated by the FDA. This product is not intended to diagnose, cure, treat, or prevent any disease.
Share