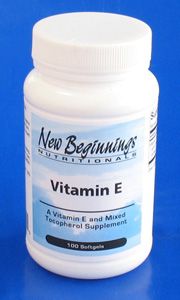 Natural, unesterified E plus mixed tocopherols.
New Beginnings Nutritionals provides vitamin E softgels as a 100% natural, d-alpha tocopherol suuplement in its free, unesterified form that is complemented by non-alpha tocopherols for more complete vitamin E function and benefit. D-alpha, the most active and best studied form of vitamin E, helps to keep it stable and provide protection for cell membranes and other tissues that are susceptible to oxidative stress such as the eyes, lungs, blood vessels, and skin. D-beta, d-gamma, and d-delta isomers help to augment vitamin E's antioxidant activity. Each softgel contains 400 IU of natural vitamin E.
$20.00

Suggested Dosage: Take 1 or 2 softgels daily with food or as directed by your healthcare practitioner. Gelcaps can be swallowed or pierced and the contents mixed with other supplements.
Each softgel contains:
Supplement Facts
Serving size
1 softgel
%DV
Servings per container
100
Vitamin E
(as d-alpha tocopherol and 67 mg of mixed tocopherols – d-beta and d-gamma) from soy
400 I.U.
1333%
Other Ingredients: Gelatin, glycerin, and water.
This product contains NO yeast, gluten, dairy, corn, sugar, artificial coloring, preservatives or flavoring.
These statements have not been evaluated by the FDA. This product is not intended to diagnose, treat, cure, or prevent any disease.
Share