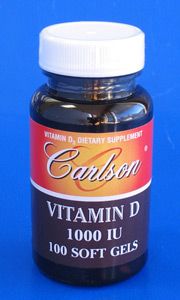 Recent research indicates that a large percentage of the population suffers from vitamin D deficiency or insufficiency.  This can be from a lack of adequate nutritional intake and natural exposure to sunlight that often is compounded by the frequent use of sunscreens or excessive clothing which blocks harmful UV rays which helps to optimize vitamin D protection in the body.
The major function of vitamin D is to promote calcium absorption from the gut and help calcium to transfer across cell membranes which contributes to strong bones It also allows optimal calcium metabolism for a calm and contented nervous system. Vitamin D aids in the absorption of magnesium, iron and zinc, as well as calcium. Normal levels of vitamin D contribute to a healthy immune system, help to promote muscle strength, and protect the body against oxidative stress and inflammation.
Cholecalciferol or vitamin D3 is the most biologically active and preferred form of vitamin D for supplementation.  Carlson Laboratories Vitamin D provides 1,000 IU of natural vitamin D3 derived from fish liver oil.
$8.00

Suggested Dosage:
Children: Take 1 gelcaps daily with meals or as directed by a healthcare practitioner. The gelcap can be opened and drops can be mixed into drink or food.
Adults: Take 2 gelcaps daily or as directed by a healthcare practitioner.
Each gelcap contains:
Supplement Facts
Serving size
1 softgel
%DV
Servings per container
100
Vitamin D3
1000 IU (cholecalciferol)
250%
* Daily value not established
Other Ingredients: Safflower oil, gelatin, glycerin, and water.
This product contains NO yeast, gluten, soy, dairy, corn, sugar, artificial coloring, preservatives or flavoring.
These statements have not been evaluated by the FDA. This product is not intended to diagnose, treat, cure, or prevent any disease.
Share