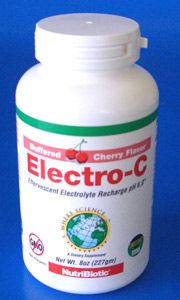 Vitamin C is an important nutritional supplement for children with special needs. Vitamin C is best known for its ability to boost immune function. It has a variety of other helpful functions as well.  It is one of the most powerful antioxidants which helps provide protection from free radical damage to the eyes, lungs, blood vessels and immune cells.  Vitamin C can inhibit candida organisms and promote wound and digestive healing. This important vitamin is also critical in the biosynthesis of carnitine, serotonin, and other neurotransmitters, including norephinephrine.
NutriBiotic Electro-C provides natural vitamin C and minerals in higher concentrations than are found in food. It is also while hypo-allergenic (free of common food antigens). Electro-C mixed in liquid becomes a potent, pure and 100% natural vitamin C supplement that is good tasting with good absorption. In ascorbate form, the minerals in Electro-C are efficiently assimilated.  The result is a buffered vitamin C electrolyte replacement drink with a sparkling fresh, natural cherry flavor.
$13.00

Suggested Dosage:
| | |
| --- | --- |
| Children 1-6 years | ¼ tsp.daily divided into 2 or more doses |
| Age 8 to adult | ½ tsp. daily divided into 2 or more doses |
Each ½ teaspoon contains:
Supplement Facts
Servings per container
181
%DV
Vitamin C
950 mg
1583%
Calcium
62 mg
7%
Magnesium
31 mg
8%
Potassium
12 mg
1%
Chloride
11 mg
*
Stevia
9 mg
*
Sodium
7 mg
1%
Sulfate
1 mg
*
Zinc
1 mg
6%
* Daily Value not established.
Other Ingredients: Ascorbic Acid, calcium carbonate, magnesium carbonate, potassium bicarbonate, natural cherry flavor, sodium chloride, stevia, and zinc sulfate.
This product contains NO yeast, corn, gluten, soy, milk/dairy, starch, artificial colors, artificial flavors or preservatives.
These statements have not been evaluated by the FDA. This product is not intended to diagnose, cure, treat, or prevent any disease.
Share