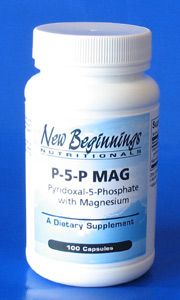 Pyridoxal-5-Phosphate, which is the converted and easy-to-assimilate form of vitamin B6, is supplied along with magnesium, an essential nutrient that assists B6 in its metabolic activity. Magnesium glycinate chelate is a form of magnesium that is well-tolerated that assimilates without irritation to the GI tissues. P-5-P MAG is useful for individuals with amino acid imbalances, nutritional deficiencies of both B6 and magnesium, or compromised liver function.
$22.00

Suggested Dosage: 1 capsule daily with food or as directed by a healthcare practitioner.
Each capsule contains:
Supplement Facts
Serving size
1 Vegetarian Capsule
%DV
Servings per container
100
Vitamin B6 (from 50 mg pyridoxal-5-phosphate)
30 mg
1500%
Magnesium (as magnesium glycinate**)
100 mg
25%
** Albion Laboratories
Other Ingredients: Vcaps™ vegetarian capsule, water, and L-leucine.
This product contains NO yeast, gluten, soy, dairy, corn, sugar, artificial coloring, preservatives or flavoring.
These statements have not been evaluated by the FDA. This product is not intended to diagnose, treat, cure, or prevent any disease.
Share