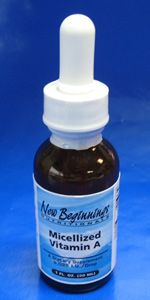 New Beginnings Mycellized Vitamin A is a highly concentrated liquid supplement. Vitamin A is important for nutrient support for vision, immune system health, bone and cartilage development, and the maintenance and repair of epithelial tissue, which includes the skin and lining of the digestive tract. This product combines two forms of vitamin A – palmitate and beta-carotene—that have been mixed into very small droplets (micellized) to aide its absorption into the bloodstream. A natural preservative from grapefruit seed extract (GSE) provides a well-tolerated and hypoallergenic stabilizing ingredient for the Micellized Vitamin A preparation. A steam distillation process that is free of chemical solvents is used to manufacture the grapefruit seed extract to ensure its potency and purity.
$18.00

Suggested Dosage:As a dietary supplement, mix one drop into water or juice – or as directed by a physician.
Each drop contains:

Supplement Facts
Serving Size
1 Drop
Vitamin A (5,000 I.U. as vitamin A palmitate and 25 I.U as beta-carotene)
5,025 IU
101%
* Daily Value not established.
Other Ingredients: Deionized water, ethoxylated castor bean oil, glycerin, citric acid, and grapefruit seed extract (natural preservative).
This product contains NO yeast, wheat, gluten, soy protein, milk/dairy, corn, sodium, sugar, starch, artificial coloring, preservatives or flavoring.
These statements have not been evaluated by the FDA. This product is not intended to diagnose, treat, cure, or prevent any disease.
Share