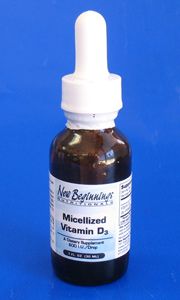 Mycelized Vitamin D is a highly concentrated, pure and natural form of vitamin D3 in each 600 IU drop. This virtually tasteless product offers a convenient way to experience the health benefits of vitamin D – which are many.
Research has shown that a large percentage of the population suffers from vitamin D insufficiency, and in many cases insufficiency.  This is a direct result of inadequate nutritional intake and exposure to sunlight. This is compounded by the frequent use of sunscreens, which not only block harmful UV rays, but unfortunately beneficial vitamin D as well.
The main function of vitamin D is to promote calcium absorption from the digestive system and help transfer it across cell membranes which contributes to strong bones and a calm, contented nervous system. It is well recognized that vitamin D aids in the absorption of other nutrients as well such as magnesium, iron and zinc. Adequate levels of vitamin D contribute to a healthy immune system, promote muscle strength and integrity, and protect against oxidative stress and inflammation.
Cholecalciferol – the form of supplemented vitamin D3 – is the most biologically active and preferred form of vitamin D.
$19.00

Suggested Dosage: Take 1 drop, once or twice daily or as directed by a healthcare practitioner. The drops can be place directly into the mouth or be mixed into cool food or drink.
Each drop contains:
Supplement Facts
Serving size
1 drop (0.05 ml)
%DV
Servings per container
600
Vitamin D3 (cholecalciferol)
600 IU (cholecalciferol)
150%
* Daily value not established
Other Ingredients: Deionized water, ethoxylated castor oil, glycerine,citric acid,grapefruit seed extract and potassium sorbate.
This product contains NO yeast, gluten, soy, dairy, corn, sugar, artificial coloring, preservatives or flavoring.
These statements have not been evaluated by the FDA. This product is not intended to diagnose, treat, cure, or prevent any disease.
Share