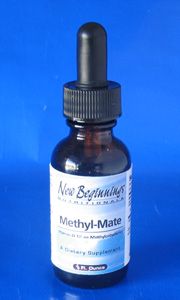 Methylcobalamin or Methyl B12 is an important form of vitamin B12 that is considered to be utilized and more absorbable than other forms of B12.  Optimal levels of Methyl B12 are needed to help protect nerve tissue and maintain the protective myelin sheaths that cover nerve endings.  Vitamin B-12 is required for digestion, absorption of nutrients, protein synthesis, and prevention of anemia. It also helps to metabolize fats and carbohydrates, and aids in cell formulation. Vitamin B-12 helps to promote development of red blood cells and maintains nerve tissue throughout the brain and nervous system.  Vitamin Methyl-B12 is also important for the creation of glutathione and to assist the body in detoxification.
New Beginnings Nutritionals has created a product called Methyl-Mate which provides an high concentration (1 ml – 5000 mcg) of methylcobalamin. It contains no flavorings or artificial preservatives.
$35.00

Suggested Dosage: As a dietary supplement, take 5 drops per day or as suggested by your physician. For best results, hold in the mouth, preferably under the tongue, for one minute before swallowing. For young children, a few drops at a time can be squirted under the tongue to allow for more effective absorption.
Each 5 drops contains:
Supplement Facts
Servings per container
108
%DV
Methylcobalamin
1385 mcg
23,083%
* Daily Value not established
Other Ingredients: Purified water and potassium sorbate and citric acid.
Contains no added starch, salt, wheat, gluten, coloring or dairy products.
These statements have not been evaluated by the FDA. This product is not intended to diagnose, cure, treat, or prevent any disease.
Share