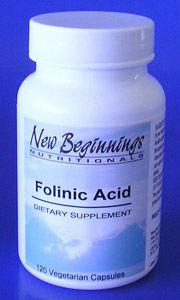 Folinic acid is a water-soluble B vitamin that is important for growth and cellular division. It is necessary for amino acid conversions and maturation of blood cells. Folinic acid is more readily transported into the central nervous system than standard folic acid. It has a longer half-life, and appears to be a more metabolically active form of of this important vitamin capable of boosting metabolic efficiency in circumstances where folic acid has little to no effect.
Used along with TMG (trimethylglycine), and methylcobalamin, folinic acid helps to convert homocysteine to methionine – an important step in the biochemical reaction called methylation.
$13.00

Suggested Dosage: 1- 4 capsules per day or as recommended by your health care practitioner.
Each capsule contains:
Supplement Facts
Serving size
1 Vegetarian Capsule
%DV
Servings per container
120
Folinic Acid
400 mcg
*
* Daily Value not established.
Other Ingredients: Natural vegetable capsule, magnesium stearate and microcrystalline cellulose.
This product contains NO yeast, gluten, soy, milk/dairy, corn, sodium, sugar, starch, artificial coloring, preservatives or flavoring.
These statements have not been evaluated by the FDA. This product is not intended to diagnose, cure, treat, or prevent any disease.
Share