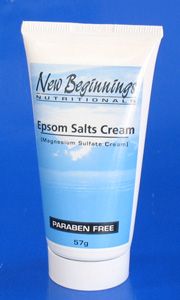 Epsom salts – known as Magnesium Sulfate in baths have been used by individuals to stimulate cleansing of the skin, as well as detoxification, to help reduce inflammation of sore muscles, promote healthy circulation, and assist with relaxation and promotion of normal sleep patterns.
New Beginnings Nutritionals NEW AND IMPROVED Epsom Salts Cream offers a convenient and easy to way to acquire the benefits of Epsom Salt baths without the need to take the time and effort on a daily basis to soak in a bathtub.  This new formula is now a true transdermal cream containing a special liposome with 100 bilayer lipid shells – identical to cell membrane lipids – allowing it to easily pass through the skin tissue and release the magnesium sulfate gradually into the body.
New Beginnings Nutritionals Epsom Salts Cream is newly packaged in a convenient and contamination proof 2 oz. tube.  Each one-gram dose provides 100 mg of Magnesium Sulfate in a creamy, non-irritating liposomal formula that is well absorbed and paraben free.
$15.00

Suggested Use: Apply 1 or more grams of Epsom Salts Cream to fatty areas of the body 2 times daily or as suggested by your health care practitioner.
Ingredients: Purified water, magnesium sulfate, glycerine, glycerol monolaurate, glycerol stearate/PEG 100, cetearyl alcohol/cocoa, glucoside, octyle, salicylate, capryllic capric triglyceride, safflower oil, PEG 8 distearate, dl-alpha tocopherol, polyacrylamide, potassium sorbate, phospholipid, alpha lipoic acid, EDTA, citrus seed extract, sodium hydroxide, propyle gallate.
This product does not contains gluten, soy, or milk/dairy
* These statements have not been evaluated by the FDA. This product is not intended to diagnose, treat, cure or prevent any disease.
Share