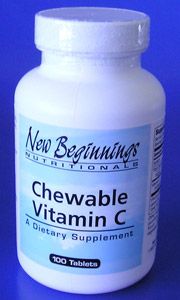 Vitamin C is an important supplement for children with special needs because of its ability to boost the immune system. Vitamin C is among the most powerful antioxidants, providing protection from free radical damage to the eyes, lungs, blood vessels and the immune system.  It can inhibit candida and promotes wound and digestive healing. This vitamin is also important in the biosynthesis of a variety of other chemical including carnitine, serotonin, and certain neurotransmitters, as well norephinephrine.
New Beginnings' provides great tasting chewable vitamin C that are buffered for easy absorption and are easy on the stomach and tooth enamel. Because a minimum of 1000 mg per day is often recommended for children with special needs, two or more tablets can be given daily to add extra vitamin C.  Since vitamin C is quickly used up in the body, dosing 250 mg multiple times through the day is highly recommended.  Many parents have used this good tasting vitamin C tablets to reward their children for compliance in taking less desirable supplements or other food items.
$7.00

Suggested Dosage: Take 2 to 4 tablets daily (in divided doses) depending on the amount of vitamin C present in other supplement formulas.  For example, New Beginnings Antioxidant Formula contains 500 mg of buffered vitamin C and an additional 2 chewable vitamin C tablets are recommended to bring vitamin C levels at least to the 1000 mg level.
Each tablet contains:
Supplement Facts
Servings per container
100
%DV
Sodium
19 mg
<1%
Total Carbohydrates
1,155 mg
<1%
Sugars
995 mg
*
Vitamin C (buffered with ascorbates)
250 mg
2500%
* Daily Value not established.
Other Ingredients: Ascorbic Acid, sodium ascorbate, fructose, cellulose, orange flavor complex, silica, sorbitol and vegetable stearate.
This product contains NO yeast, corn, gluten, soy, milk/dairy, starch, artificial colors, artificial flavors or preservatives.
These statements have not been evaluated by the FDA. This product is not intended to diagnose, cure, treat, or prevent any disease.
Share