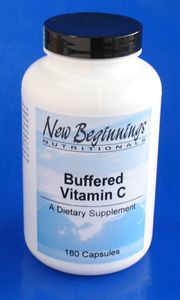 Vitamin C is an important supplement for children with special needs. Vitamin C is best known for its ability to boost the immune system.  Vitamin C is one of the most powerful antioxidants, and provides protection from free radical damage to the eyes, lungs, blood vessels and the immune system.  Vitamin C can inhibit candida and promotes wound and digestive system healing. This vitamin is also involved in the biosynthesis of carnitine, serotonin, and certain neurotransmitters, including norephinephrine.
New Beginnings' Buffered Vitamin C capsules offer a high potency vitamin C that is non-acidic and easy on the stomach.  Each capsule provides approximately 350 mg of vitamin C. Higher doses of vitamin C are often suggested to support the immune system during illness or to relieve constipation.  When taking higher doses of this supplement, it is important to take into consideration the dose of the minerals also accompanying the vitamin C.
$22.00

Suggested Dosage: Take two or more capsules per day or as recommended by your healthcare practitioner.
Each 2 capsule contains:
Supplement Facts
Serving size
2 Vegetarian Capsules
%DV
Servings per container
90
Vitamin C (as Ascorbic Acid USP)
700 mg
1167%
Calcium (as Carbonate UPS)
100 mg
10%
Magnesium (as Carbonate USP)
100 mg
25%
Potassium (as Gluconate USP)
20 mg
<1%
Daily value not established.
Other Ingredients: Natural vegetable capsules. May contain one or more of the following: Calcium Silicate, Magnesium Stearate, Microcrystalline Cellulose and Silicon Dioxide.
This product contains NO yeast, gluten, soy, dairy, corn, sugar, artificial coloring, preservatives or flavoring.
These statements have not been evaluated by the FDA. This product is not intended to diagnose, treat, cure, or prevent any disease.
Share