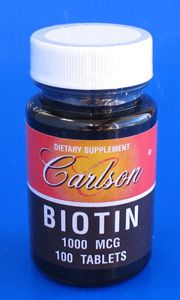 Biotin is part of the B-vitamin family. It can be found in foods such as cauliflower, nuts, sardines, legumes, brewer's yeast, egg yolk, kidney and liver meats. This vitamin is produced naturally in the body by the abundance of beneficial bacteria in the intestinal tract such as acidophilus and bifidobacter.
Biotin has a crucial role in energy metabolism. It acts as a coenzyme and carries carbon dioxide. Biotin plays a role in the breakdown of carbohydrates, fat synthesis, amino acid metabolism and glycogen synthesis – which are all necessary for overall biochemical efficiency. Some practitioners recommend Biotin supplement support to help maintain the proper balance of intestinal flora.
$10.00


Suggested Dosage: Take 1 tablet daily or as directed by a healthcare practitioner. The tablet can be swallowed or crushed and mixed into food or drink.
Each tablet contains:
Supplement Facts
Serving size
1 tablet
%DV
Servings per container
100
Biotin
1000 mcg
333%
* Daily value not established
Other Ingredients: Dicalcium phosphate, plant cellulose, stearic acid (veg.), silicon dioxide, magnesium stearate.
This product contains NO yeast, gluten, soy, dairy, corn, sugar, artificial coloring, preservatives or flavoring.
These statements have not been evaluated by the FDA. This product is not intended to diagnose, treat, cure, or prevent any disease.
Share