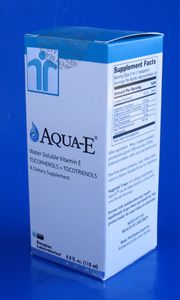 Vitamin E is an essential nutrient and powerful antioxidant.  It helps protect the membranes of our cells and neutralizes free radicals that can cause oxidative damage. Vitamin E is necessary to support neurological, musculoskeletal, circulatory, and immune system function. Most importantly, vitamin E reduces oxidative stress, which is associated with an increased risk of chronic disease.
Aqua-E is a unique patented pharmaceutical grade supplement by Yasoo Health, a leading provider in vitamin E research and formulation.  Aqua-E supplies the complete vitamin E groupings of tocopherols plus tocotrienols in water-soluble form.  This supplement is specially designed for improved absorption so that normal vitamin E efficiency can be maintained – this is critical for children with special needs and adults with chronic illness who often require extra antioxidant protection.
Aqua-E is odorless, has a neutral taste and is ideal for children and people who cannot swallow capsules.  It mixes easily in water and other beverages. The dose can be adjusted to meet individualized nutritional requirements.
$39.00

Suggested Dosage:
| | |
| --- | --- |
| Children: | ½ to 1 tsp. daily divided into 2 doses or as suggested by your healthcare practitioner |
| Adults: | 2 tsp. daily divided into 2 doses or as suggested by your healthcare practitioner |
Each dose contains:
Supplement Facts
Serving Size
5 ml (approx 1 tsp)
Servings per container
48 (approx)
%DV
d-alpha-Tocopherol
100 IU
333%
d-gamma-Tocopherol
60 mg
*
d-beta plus d-delta-Tocopherol
15 mg
*
Total Tocopherols
142 mg
*
Total tocotrienols
8 mg
*
Total tocopherols plus tocotrienols
150 mg
*
* Daily Value not established.
Other Ingredients: Water, d-alpha-tocopheryl polyethylene glycol-1000 succinate (TPGS), potassium sorbate, sorbic acid, and linoleic acid..
Free from animal products, yeast, wheat, gluten, soy protein, casein,  sweeteners, and salt.
These statements have not been evaluated by the FDA. This product is not intended to diagnose, cure, treat, or prevent any disease.
Share