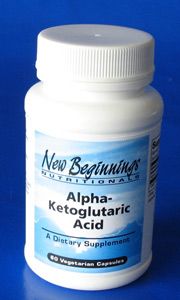 Assists in the removal of ammonia from the central nervous system.

New Beginnings An organic acid, Alpha-ketoglutaric (AKG) is important for the normal metabolism of all essential amino acids and the proper transfer of cellular energy in the citric acid cycle (aka. Krebs Cycle). It acts as a precursor to glutamic acid, the non-essential amino acid involved in protein synthesis and the regulation of blood glucose levels. Together with L-glutamate, AKG reduces levels of ammonia formed in the brain, muscles and kidneys, and helps balance the body's nitrogen chemistry by preventing nitrogen excess in body tissues and fluids. Individuals with high proten intake, bacterial infections, or gastrointestinal dysbiosis may benefit from supplemental AKG to help balance ammonia levels and protect tissues.
$16.00

Suggested Dosage:1 capsule daily or as suggested by your health care practitioner.
Each capsules contain:
Supplement Facts
Serving size
1 Capsules
%DV
Servings per container
60
Alpha-Ketoglutaric Acid
300 mg
*
* Daily Value not established.
Other Ingredients: Cellulose, Vcaps™ vegetarian capsule, water, and
L-leucine.
This product contains NO gluten, milk/dairy, corn, sodium, sugar, starch, artificial coloring, preservatives or flavoring.
* These statements have not been evaluated by the FDA. This product is not intended to diagnose, treat, cure, or prevent any disease.
Share