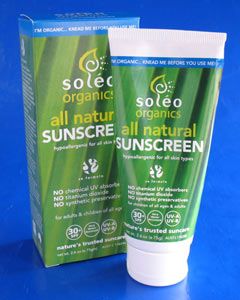 Soléo Organics All Natural Sunscreen is an organically produced all-natural skin care solution that is safe for humans and the environment. Designed as a consumer friendly and safe alternative to common synthetic based sunscreens, Soléo has been innovatively formulated according to Naturopathic principles without the use of any chemical UV-absorbers, titanium dioxide, or synthetic preservatives. Created in Australia, Soléo is a major advancement in sun care technology for it is water resistant, biodegradable, neutrally scented, has a low skin irritation factor, and contains natural organic ingredients.
$24.00

SE Formula™: made using ONLY natural and organic ingredients, according to Naturopathic principles for holistic health and well-being. Ingredients: grapeseed oil, sunflower seed oil, vegetable oils, Cera alba, Capric/caprylic triglyceride, Candelilla Cera, Macadamia seed oil, Lecithin, Theobroma grandiflorum seed butter, Green tea leaf extract, RomanChamomile flower extract, Safflower seed oil, Cucumber extract. Active Ingredient: zinc oxide 22.3% A healthy choice:
NO chemical UV-absorbers
NO synthetic preservatives
NO titanium dioxide
NO nano particles
NO benzoates
NO petrochemicals
NO artificial fragrances
Because Soléo Organics sunscreen only contains natural and organic ingredients, it is ideal for young children, people with sensitive skin and those who are simply health conscious.
Soléo Organics formulations use zinc technology combined with antioxidants and plant extracts to provide comprehensive sun protection, without leaving your skin white.
Soléo Organics Benefits
1.   Healthy Alternative To Common Synthetic Sunscreens: Developed for health conscious consumers who are looking for an alternative to common synthetic sunscreens.
2.   Sensitive Skin: Formulated for all skin types including sensitive – people with chemical sensitivities, skin allergies, acne and other skin conditions.
3.   Young Children: Suitable for the entire family – children of all ages and adults. No artificial synthetic preservatives or fragrances.
4.   Pregnant Women: Suitable for pregnant women.
5.   Caring For The Skin: Fortified with the goodness of botanical extracts and Vitamin E to replenish and care for the skin during and after sun exposure. These ingredients include: natural moisturisers (macadamia oil and cupuassu butter) and antioxidants (green tea and grapeseed extracts)
6.   Broadspectrum Protection: Protects against UV-A rays, which cause premature ageing of the skin and UV-B rays, which cause sunburn.
Share