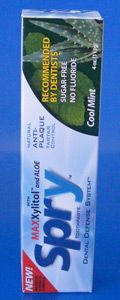 The Spry Dental Defense System is a family of products manufactured using Xylitol, a natural sweetener. Clinical studies have repeatedly shown reductions in tooth decay by up to 80% in people who consistently use products sweetened with this extraordinary substance.  Although fluoride is also antibacterial, many children may swallow or eat toothpaste.  Since fluoride may be toxic at high levels, this toothpaste may be used without concern for fluoride toxicity.
Studies show that consistent use of products sweetened with 100% Xylitol:
Reduce cavities by up to 80%
Inhibit the ability of cavity-causing, plaque-forming bacteria to stick to teeth
Reverse early cavity formation
$5.50

How Spry fights cavities
Spry fights cavities by creating an unwelcome environment for bacteria. Bacteria do not stick to teeth in a Xylitol – rich environment. As a result, there is a lot less plaque build-up and the decay-causing bacteria cannot stick to tooth enamel.
In the presence of Xylitol, bacteria can't stick to teeth. Without bacteria, oral health improves and tooth decay is greatly reduced.
Ingredients: Purified water, MAXxylitol (Maximum-Strength Xylitol), hydrated silica, sorbitol, vegetable glycerin, natural spearmint oil, sodium methyl cocoyl taurate, calcium glycerophosphate, calcium lactate gluconate, titanium dioxide, cellulose gum, stevia, sodium lauroyl sarcosinate, sodium benzoate, aloe vera gel, parsely seed oil.
This product contains no gluten, yeast, milk derivatives, artificial colors or flavors.
These statements have not been evaluated by the FDA. This product is not intended to diagnose, cure, treat, or prevent any disease.
Share