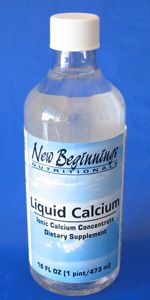 New Beginnings Nutritionals Liquid Calcium is an ultra concentrated blend of bio-available liquid ionic calcium that mixes easily into water or juice.  Ionized minerals are very bio-available because they are easily recognized and absorbed by the body, which results in better utilization and assimilation into the cells.
This unique ultra concentrate ionic formula was specially created to provide the highest amount of absorbable calcium in the smallest amount of liquid possible for ease of administration. Adequate intake of calcium on a daily basis is vitally important for everyone, especially children who are on restricted diets and/or who are undergoing detoxification therapies that can deplete calcium levels in the body.  Adequate levels of calcium are important in maintaining nervous and immune system function, healthy bones, teeth, heart, muscles, and blood coagulation.  In addition, this essential mineral plays an important role in the absorption of vitamin B12.
New Beginnings Nutritionals Liquid Calcium contains water-soluble calcium in an angstrom-sized (1/10,000th of a micron) ionic form bonded to ultra pure water that can be easily absorbed into the cells with no digestion required. This formula is free of artificial preservatives or sweeteners and is likely to be tolerated by even the most extremely chemically sensitive individuals.
$28.00

Suggested Dosage: Mix 3/4 tsp (4 ml) into 4 oz water or juice 2 or 3 times daily or as directed by physician.  Calcium should be dosed away from zinc for optimal absorption.  Suggested juices that work best with New Beginnings Liquid Calcium include pear, pineapple, grape or orange.  This dose provides 350 mg of ionic calcium per day.  Due to the superior absorbability of ionic minerals, this dose may be sufficient to maintain adequate calcium levels in the body.  This dose may be increased as needed or reduced if additional calcium is being consumed in supplemental or in dietary form.
To Mix Calcium together with Magnesium: New Beginnings Nutritionals Liquid Magnesium can be added together with each dose of Liquid Calcium to create a Calcium/Magnesium combination formula.  Mixing 4 ml Liquid Calcium with 2 ml Liquid Magnesium with will provide a Cal/Mag ratio of approximately 2 to 1 (175 mg/100 mg).  This ratio can easily be adjusted according to the needs of each individual.
Each dose contains:
Supplement Facts
Serving Size
1.5 tsp (approx. 8 ml
Servings per container
64
Calcium
350 mg
35%
* Daily Value not established.
Other Ingredients: Ultra pure water, stevia, grapefruit seed extract, and potassium sorbate (to naturally preserve freshness).
This product contains NO yeast, gluten, soy, dairy, corn, sugar, artificial coloring, preservatives or flavoring.
These statements have not been evaluated by the FDA. This product is not intended to diagnose, treat, cure, or prevent any disease.
Share