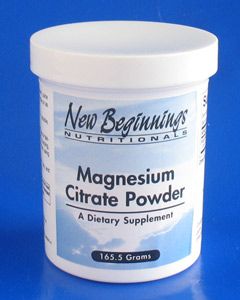 Magnesium is an essential mineral that is important for adequate calcium absorption, cellular metabolism and overall healthy body functioning. The symptoms of magnesium deficiency can include poor appetite, anxiety, mental confusion, weakness, fatigue, confusion, sleep disturbances, and muscles spasms and twitching.
New Beginnings Nutritional's Magnesium Citrate Powder is non-gritty and dissolves well into liquids.  This high quality product contains 100% pure anhydrous magnesium citrate with no added flavorings or sweeteners.
Suggested daily dosages for magnesium are:
| | |
| --- | --- |
| Age 1-4 | 125 – 250 mg |
| Age 5-10 | 250 – 400 mg |
| Age 10+ | 500+ mg |
It is important to be aware that magnesium can cause loose stools and/or diarrhea when given in higher doses.  If these symptoms appear, reduce the dosage until bowel movements normalize.
$12.80

Suggested Dosage: Take 1 scoop 3 times daily with meals or as suggested by your health care practitioner.  Magnesium citrate powder can be mixed into pancakes, muffins, cookies or any food because minerals are not broken down when exposed to heat.
One scoop contains:
Supplement Facts
Serving size
1 level scoop (approx. 1.38g)
%DV
Servings per container
120
Magnesium (from Magnesium Citrate)
200
50%
Other Ingredients: None
This product contains NO yeast, gluten, soy, milk/dairy, corn, sodium, sugar, starch, artificial coloring, preservatives or flavoring.
These statements have not been evaluated by the FDA. This product is not intended to diagnose, treat, cure, or prevent any disease
Share