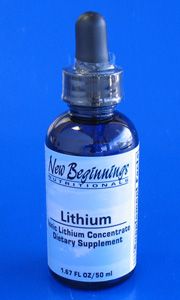 New Beginnings Nutritionals offers an ultra concentrated blend of ionic liquid lithium that mixes easily into water or juice.  Ionized minerals are very bio-available because they are easily recognized and absorbed by the body, which results in better utilization and assimilation into the cells.
Lithium is a naturally occurring alkali metal, which living organisms ingest from dietary sources including dairy products, eggs, fish, potatoes and vegetables.  Trace levels of lithium are also found in tap water. At high doses (900,000 micrograms (mcg)/day or more for an adult), lithium has been used as a pharmaceutical agent to treat manic depression, conduct disorders, self-abusive behaviors, and aggressive behaviors. It has been suggested that lithium, at low-dosage levels, has a generally beneficial effect on human behavior. This suggestion was based on a report that associated higher incidence of violent crimes with low-lithium drinking water. Lithium's biochemical mechanisms of action appear to be multifactorial and are intercorrelated with the functions of several enzymes, hormones and vitamins, as well as with growth and transforming factors. In addition, lithium is required to induce a neurotrophic factor in the brain that protects against excitotoxins such as glutamate and has been shown in one study to stimulate the division of brain stem cells.  Hair lithium has been shown to be a good indicator of dietary lithium intake and in studying hair mineral levels, Jim Adams has found that lithium values were significantly lower in both young children with autism and their mothers.  Because a major source of dietary lithium can come from municipal water supplies, the increase in drinking purified water may be a cause of deficiency.  Some symptoms of lithium deficiency can include ADD, depression, aggression, infertility, mood swings, and reduced growth rate.
$25.00

Suggested Dosage: Adults take 10 drops daily with juice or water.  Children take 3-5 drops daily with juice or water.  Do not take on an empty stomach.  Shake well before using.
Each 10 drops contains:
Supplement Facts
Serving size
10 Drops (0.50 ml)
Servings per container
100
%DV
Lithium
500 mcg
*
Other Ingredients: Purified water.
This product contains NO yeast, corn, gluten, soy, milk/dairy, corn, starch artificial colors or preservatives.
These statements have not been evaluated by the FDA. This product is not intended to diagnose, cure, treat, or prevent any disease.
Share