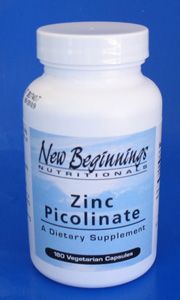 Zinc is necessary for the proper functioning of the immune system and this essential trace element is required for the activity of over 300 enzymes and is involved in most major metabolic pathways.  The immune system depends on zinc in almost every aspect.  Zinc deficiency can be common in children with special needs and immune dysfunction. Zinc bolsters the immune system and makes wounds heal faster. It is integral to the growth and maintenance of body tissues and it plays a major role in the development of fetuses and the growth of children. General signs of zinc deficiency are sleep disturbances, diarrhea, poor appetite, unhealthy skin, behavioral problems, inability to heal wounds and chronic infections.
Since our bodies utilize picolinic acid to absorb and transport certain minerals, New Beginnings Nutritionals is offering Zinc Picolinate available because of its superior absorbability.
$18.00

Suggested Dosage: 1 to 2 capsule daily or as suggested by your health care practitioner. Zinc is best taken apart from calcium with a small amount of food
Each capsule contains:
Supplement Facts
Serving size
1 capsule
%DV
Servings per container
180 capsules
Zinc (from 250 mg Zinc Picolinate Acid Complex)
25 mg
167%
* Daily Value not established
Other Ingredients: Cellulose, vegetable stearate and silica
This product contains NO yeast, corn, gluten, soy, lactose, sugar or other sweeteners, artificial colors, or preservatives.
These statements have not been evaluated by the FDA. This product is not intended to diagnose, cure, treat, or prevent any disease.
Share