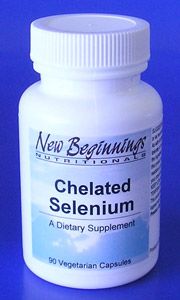 Selenium is a powerful antioxidant, which plays an important part in the antioxidant enzyme glutathione peroxidase, which is considered the most important factor in resistance to free radical damage at the cellular level. Low levels of selenium have been implicated in many chronic disease states.  Because this very important trace mineral is mostly found in dairy and whole wheat, diets lacking in these foods will be deficient in selenium.  Adequate levels of selenium are needed to support the immune system and the body's detoxification process.  It is also thought to affect eyesight, liver function, heart health and skin health.  One capsule of New Beginnings Chelated Selenium supplies approximately 200 mcg of the trace mineral selenium. It is best to give selenium at least 30 minutes before, or two hours after giving vitamin C.
$12.00

Suggested Dosage: ½ to 1 capsule daily or as suggested by your health care practitioner.
Each capsule contains:
Supplement Facts
Serving size
1 capsule
Servings per container
90
%DV
Selenium (as Chelate)
200 mcg
286%
Other Ingredients: Natural vegetable capsules, magnesium stearate and microcrystalline cellulose.
This product contains NO yeast, corn, gluten, soy, milk/dairy, corn, starch artificial colors or preservatives.
These statements have not been evaluated by the FDA. This product is not intended to diagnose, cure, treat, or prevent any disease.
Share