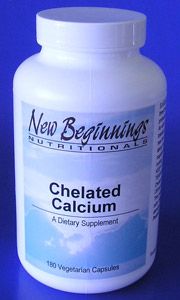 It is vitally important for individuals (especially children) who have to eliminate or limit dairy consumption because of digestion issues and/or allergies to take high quality calcium supplements to prevent calcium deficiency. Calcium is necessary for the maintenance of strong, healthy bones and teeth. This important mineral is also associated with a well-functioning nervous system and plays a role in many blood and tissue processes. Maintaining adequate levels are important because calcium is constantly being shuttled from bones to meet other bodily needs including the transmission of nerve impulses, the clotting of blood, the regulation of heart muscle rhythm and the absorption of vitamin B12. New Beginnings Nutritionals Chelated Calcium is surrounded by and bonded to amino acids, in a stable form, that enable them to be more efficiently absorbed by the body. This new formula has also included natural vitamin D and phosphorus for  better absorption and utilization.
$29.00

Suggested Dosage: 2 to 4 capsules daily given in divided doses or as suggested by your health care practitioner. For optimal absorption, calcium should be taken at least one hour apart from zinc.  Daily calcium intake dosage suggestions are as follows:
| | |
| --- | --- |
| –  Infants 6-12 months: | 600 mg |
| –   Children 1-7 years: | 1000 mg |
| –    Age 8 to adult: | 1200 mg |
Two capsules contain:
Supplement Facts
Serving size
2 Vegetarian Capsules
%DV
Servings per container
90
Vitamin D3

(as Cholecalciferol)

400 IU
100%
Calcium

(as Hydroxyapatite, Malata, Amino Acid Chelate, Aspartate)

435 mg
44%
Phosphorus
143 mg
14%
Other Ingredients: Natural vegetable capsules. This product may contain one or more of the following: Calcium Silicate, Magnesium Stearate, Microcrystalline cellulose and Silicon dioxide.
This product contains NO yeast, gluten, egg, peanuts, milk/dairy, corn, sodium, sugar, starch, artificial coloring, preservatives or flavoring.
These statements have not been evaluated by the FDA. This product is not intended to diagnose, treat, cure, or prevent any disease.
Share