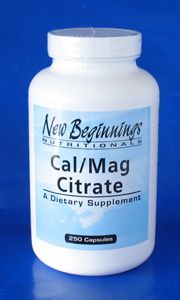 New Beginning's Calcium/Magnesium Citrate is an ideal combination formula for individuals wanting to take both calcium and magnesium together in the citrate form. This is an especially useful supplement for those individuals trying to follow a Low Oxalate Diet. Oxalates are molecules that are abundant in many plant foods but when absorbed into the body in high amounts (possibly as a result of a leaky gut); it can lead to oxidative damage, depletion of glutathione, inflammation and the formation of crystals, which have been associated with pain.
Scientific studies have shown that calcium and magnesium react with oxalate in food to make an insoluble salt that cannot be absorbed.  In addition, the citrate portion of the molecule competes with oxalate for absorption from the gastrointestinal tract.  For more information on oxalates, go to the following link:
http://www.greatplainslaboratory.com/oxalates/OXAL-web/GPL-OXLS-1.htm.
Supplementing with calcium is essential for individuals who are on a dairy-free diet. Adequate calcium levels are necessary to maintain healthy bones, teeth, heart, muscles, blood coagulation, and immune system function. The recommended daily dosages of calcium are:
| | |
| --- | --- |
| Age 6-12 months: | 600 mg |
| Age 1-7 years: | 1000 mg |
| Age 8 +: | 1200 mg |
Magnesium is an essential mineral that is important for adequate calcium absorption, cellular metabolism and overall healthy body functioning. The symptoms of magnesium deficiency can include poor appetite, anxiety, mental confusion, weakness, fatigue, confusion, sleep disturbances, and muscles spasms and twitching. Suggested daily dosages for magnesium are:
| | |
| --- | --- |
| Age 1-4 | 125 – 250 mg |
| Age 5-10 | 250 – 400 mg |
| Age 10+ | 500+ mg |
It is important to be aware that magnesium can cause loose stools and/or diarrhea when given in higher doses.  If these symptoms appear, reduce the dosage until bowel movements normalize. For individuals following a dairy free diet, additional calcium supplementation (without magnesium) may be necessary to supply adequate calcium without exceeding the magnesium recommended dosage.
$22.00

Suggested Dosage: 2 capsules before meals to help prevent oxalate absorption or as suggested by your healthcare practitioner.  Capsules can be swallowed or opened up and mixed into food or drink.
Two capsules contain:
Supplement Facts
Serving size
2 Vegetarian Capsule
%DV
Servings per container
Calcium (from 600 mg Calcium Citrate)
144 mg
14%*
Magnesium (from 600 mg Magnesium Citrate)
96 mg
24%
Boron (from Boron Citrate)
20 mcg
Other Ingredients:Cellulose, gelatin (capsule) and vegetable stearate.
This product contains NO yeast, wheat, gluten, soy, milk/dairy, corn, sodium, sugar, starch, artificial coloring, preservatives or flavoring.
These statements have not been evaluated by the FDA. This product is not intended to diagnose, treat, cure, or prevent any disease.
Share