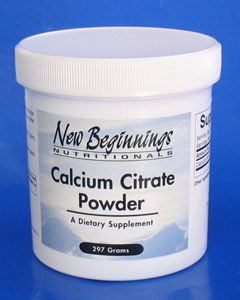 Adequate intake of calcium on a daily basis is vitally important for everyone, especially children who are on restricted diets and/or who are undergoing detoxification therapies that can deplete calcium levels in the body.  Adequate levels of calcium are important in maintaining nervous and immune system function, healthy bones, teeth, heart, muscles, and blood coagulation.  In addition, this essential mineral plays an important role in the absorption of vitamin B12.
When taken with meals, New Beginnings Nutritionals Calcium Citrate Powder is ideal for preventing oxalate absorption from oxalate-rich foods and dissolves quickly into food or drink leaving very little taste.  Each dose provides 350 mg of elemental calcium per dose.
$18.00

Suggested Dosage: Take 1 scoop 3 times daily with meals or as suggested by your health care practitioner.  Calcium should not be dosed with zinc or in amounts greater than 350 mg (at one time) to insure optimal absorption by the body. Calcium citrate powder can be mixed into pancakes, muffins, cookies or any food because minerals are not broken down when exposed to heat.
Daily calcium intake dosage suggestions are as follows:
| | |
| --- | --- |
| —   Infants 6-12 months: | 600 mg |
| —   Children 1-7 years: | 1000 mg |
| —   Age 8 to adult: | 1200 mg |
One scoop contains:
Supplement Facts
Serving size
1 Scoop (1.83g)
Servings per container
162
Calcium (from Calcium Citrate)
350 mg
Other Ingredients: None)
This product contains NO yeast, gluten, soy, milk/dairy, corn, sodium, sugar, starch, artificial coloring, preservatives or flavoring.
These statements have not been evaluated by the FDA. This product is not intended to diagnose, treat, cure, or prevent any disease
Share