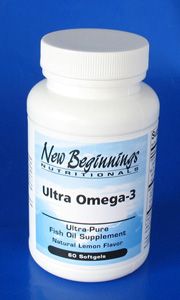 New Beginnings Nutritionals Ultra-Omega-3 is an exceptional omega-3 fatty acid supplement that allows for maximum intake of omega-3s in the fewest number of soft gel capsules. Advanced molecular distillation processing super-concentrates the amount of EPA and DHA from fish oil into a 1,000 mg soft gel for added convenience and enhanced benefit. Removal of environmental toxins, including mercury, PCBs, and dioxins, is achieved through purification processes. The high nutritional density of this oil makes it suitable for patients requiring extra-high amounts of omega-3 fatty acids to support cardiovascular, neurological, and immune regulatory mechanisms. By providing omega-3 fatty acids that are often difficult for many patients to obtain from their diet, Ultra-Omega 3 can help maintain a healthy fatty acid ratio and proper eicosanoid balance.  The potency, purity, and price of Ultra-Omega 3 compares favorably against other high-potency, highly refined fish oil products, making it a very cost-effective choice. Natural lemon oil flavor has been added to the oil, lending a pleasant, light lemon scent and taste.
$37.00

Suggested Dosage:1 to 2 gel caps daily with food.
Each soft gel contains:
Supplement Facts
Serving size
1 Soft Gel Capsule
%DV
Servings per container
120
Calories
10
Calories from fat
10
Total Fat
1 g
2%
Saturated Fat
0 g
0%
Polyunsaturated Fat
1 g
Marine Lipid Concentrate

Supplying the following Omega-3 fatty acids

1000 mg
Eicosapentaenoic acid (EPA)
360 mg
*
Docosahexaenoic acid (DHA)
270 mg
*
* Daily Value not established.
Ingredients: Gelatin, glycerin, natural mixed tocopherol vitamin E, natural lemon oil, rosemary extract, and water.
This product contains NO yeast, gluten, soy, egg, milk/dairy, corn, artificial coloring, preservatives or flavoring.
These statements have not been evaluated by the FDA. This product is not intended to diagnose, cure, treat, or prevent any disease.
Share