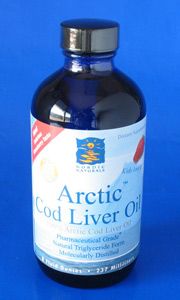 Nordic Naturals' purified Arctic Cod Liver Oil from Norway is molecularly distilled and enhanced with antioxidants and natural strawberry flavor for freshness and great taste.  This product contains a high level of omega-3 fatty acids with naturally occurring vitamins A and D.  Purified cod liver oil is recommended to support normal brain development, visual function and to increases DHA level in active kids.  Studies have shown that omega-3 supplementation enhances learning and achievement, positive moods, improved blood viscosity, joint mobility, flexibility, and memory function.  All Nordic Natural products surpass all national and international pharmaceutical standards for freshness and purity, and are free from heavy metals, dioxins, and PCBs. Every batch is third party tested to guarantee exceptional freshness and purity levels.
$23.00

Suggested Dosage: One to two teaspoons daily, with food, or as directed by your health care practitioner.
Each teaspoon contains:
Supplement Facts
Serving size
1 Teaspoon
%DV
Calories
45
Calories from Fat
45
Total Fat
5.0 g
8%
Saturated Fat
1.0 g
5%
Trans Fat
0 g
*
Cholesterol
14 mg
5%
Vitamin A (from Cod Liver Oil)
1000-2000 IU
20-40%
Vitamin D (from Cod Liver Oil)
1-20 IU
0.25%-5%
Vitamin E (Mixed Tocopherols)
5 IU
17%
Omega-3 Fatty Acids
1260 mg
*
DHA (Docosahexaenoic Acid)
625 mg
*
EPA (Eicosapentaenoic Acid)
410 mg
*
Other Omega-3s
225 mg
*
Oleic Acid (Omega-9)
600 mg
*
* Daily Value not established.
Ingredients: Purified arctic cod liver oil, vitamin E (mixed tocopherols), strawberry essence, rosemary extract.
This product contains no gluten, yeast, milk derivatives, artificial colors or flavors.
These statements have not been evaluated by the FDA. This product is not intended to diagnose, treat, cure, or prevent any disease.
Share