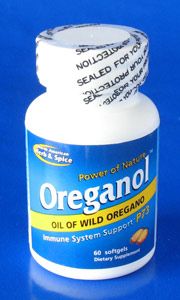 North American Herb & Spice has created a superior oregano oil product called Oreganol – P73, which is made from the wild, mountain-grown, Mediterranean oregano.  This is the only oregano product on the market that has been extensively researched in studies conducted by Georgetown University.
Oreganol contains over 64% Cavacrol, the active ingredient in oregano oil.  In addition, this product does not contain Thymol, a harmful substance that is often found in inferior grades of oregano oil.  This high potency oregano oil is free of all chemicals and pesticides – produced by cold pressing and steam distillation  – and emulsified in extra virgin olive.
$29.00

Suggested Dosage:
Children: Take 1 gelcap daily with meals or as directed by a healthcare practitioner. The gelcap can be opened and drops can be mixed in juice or water, or rubbed into the skin.  Even small children may be able to swallow this tiny gelcap when place in a spoonful of applesauce or similar textured food product.
Adults: Take 1 to 2 gelcaps twice daily depending or as directed by a healthcare practitioner.
Each soft gel contains:
Supplement Facts
Serving size
1 softgel
%DV
Servings per container
60
Proprietary blend in extra virgin olive oil
140 mg
*
Wild oregano oil P73
*
* Daily value not established
Capsules made from 100% beef gelatin (BSE-free) Non-GMO
This product contains NO yeast, gluten, soy, dairy, corn, sugar, artificial coloring, preservatives or flavoring.
These statements have not been evaluated by the FDA. This product is not intended to diagnose, treat, cure, or prevent any disease.
Share