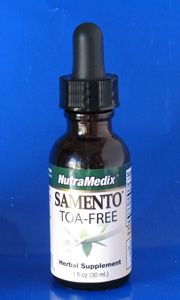 Nutramedix utilizes a proprietary extraction and enhancement process that provides a highly bio-available, full spectrum extract.  This high quality Samento extract, which is a rare form of the Cat's Claw (Uncaria tomentosa) plant, has been used for hundreds of years by native Peruvians. Samento is known for its anti-microbial properties and for its ability to support the body's immune system functioning.
Samento contains pentacyclic oxindole alkaloids (POAs). POAs act on and help regulate the cellular immune system. Most forms of Cat's Claw contain TOAs which readily cancel out the powerful POAs. Samento is TOA free.
Independent research suggests Samento extract can support the gastrointestinal tract, immune function, and the central nervous system.
$48.00

Suggested Dosage: Put 1 to 15 drops in a glass, add 4 oz.(120 ml) of pure water and wait one minute before drinking.  Start with 1 drop, 2 times per day slowly increasing up to 15 drops 2 times per day or as directed by your physician.  Shake well before using.
Each 15 drops contain:
Supplement Facts
Serving size
15 Drops
Servings per container
20/40
%DV
Samento Bark Extract

(Uncaria tomentosa – pentacyclic chemotype)

0.75 ml
*
Other Ingredients: Mineral water, Ethanol (20-25%)
This product contains NO yeast, gluten, soy, milk/dairy, artificial colors or preservatives.
These statements have not been evaluated by the FDA. This product is not intended to diagnose, cure, treat, or prevent any disease.
Share