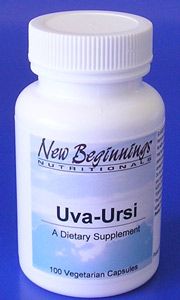 This herb is also referred to as "bearberry" because bears enjoy eating its red or pink berries.  Uva ursi (Arctostaphylos uva ursi) is known for helping the immune system fight urinary tract infections and is useful in supporting intestinal health because of its anti yeast and bacterial properties.
$13.00

Suggested Dosage: Take 1 capsule daily between meals or as suggested by your health care practitioner.  Continuous use of this product should not exceed seven to ten days.
Each capsule contains:
Supplement Facts
Servings per container
60
%DV
Uva Ursi Herbal Extract (leaf) (Arctostaphylos uva-ursi L.Spreng.) Standardized to provide 40 mg Arbutin.
200 mg
*
Uva Ursi (leaf)
100 mg
* Daily Value not established.
Other Ingredients: Cellulose and vegetable stearate.
This product contains NO yeast, corn, gluten, soy, lactose, sugar or other sweeteners, artificial colors, or preservatives.
These statements have not been evaluated by the FDA. This product is not intended to diagnose, cure, treat, or prevent any disease

Share