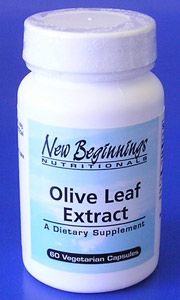 New Beginnings Nutritionals Olive Leaf Extract is high quality and standardized to 20% Oleuropein. This compound, as well as other polyphenols that make up olive leaf extract, have been shown to have strong antioxidant, anti-yeast, anti-bacterial, and anti-viral properties. Recent studies have demonstrated oleuropein's growth inhibition of several pathogenic bacterial strains, including Salmonella typhi, Staphylococcus aureus, Escherichia coli, Klebsiella pneumoniae, and Bacillus cereus. Other studies have shown that the olive plant's phenolics can reduce the production of toxins from Aspergillus flavus.*
* Study references will be provided upon request.
$17.00

Suggested Dosage: 1 to 4 capsules daily or as suggested by your health care practitioner.
Each capsule contains:
Supplement Facts
Serving size
1 Capsule
%DV
Servings per container
60
Olive Leaf Extract (Standardized)
500 mg
*
* Daily Value not established.
Other Ingredients: Vegetable stearate
This product contains NO yeast, gluten, soy protein, milk/dairy, corn, sodium, sugar, starch, artificial coloring, preservatives or flavoring.
These statements have not been evaluated by the FDA. This product is not intended to diagnose, cure, treat
Share